School Management System: Features That Institutes Need The Most
The concerns of educational institutions are what we strive to resolve with our one-stop digital solutions.
Overview
It was the pandemic that turned the scenarios completely for the education sector. In 186 countries, more than 1.2 billion children were impacted by the COVID-19 pandemic, closing schools nationwide, showing the spread of the disease across different stages in different countries. In light of the global pandemic, there have been concerns about the future of online learning, and how this will affect the global education market.
However, online mediums have supported the idea of learning. Though, there has been some speculation about whether these sudden shifts away from the classroom will continue. The number of tools and applications that are being used in schools has increased significantly since COVID-19, including school management systems, online learning software, language apps, and video conferencing tools.
School Management System
We live in a period of rapid technological advancement in which technology permeates every aspect of our lives. And, for the education sector, the school management system has evolved as an impactful solution. It is considered to be the backbone of the online impartation of education. With online classes as an effective alternative to the traditional mode of learning, the education sector has evolved very much.
However, there are certainly more features than just online classes and online tests in the school management system. Here are some of the features that usually the institute's need most while digitizing themselves.
Online Classes and Attendance
When any educational institute opt for a school management system, they mainly use it for online classes. Conducting smooth online classes and providing the ability to track the attendance of the students are very important features that these systems must have.
Online Tests and Restrictions for Fair Evaluation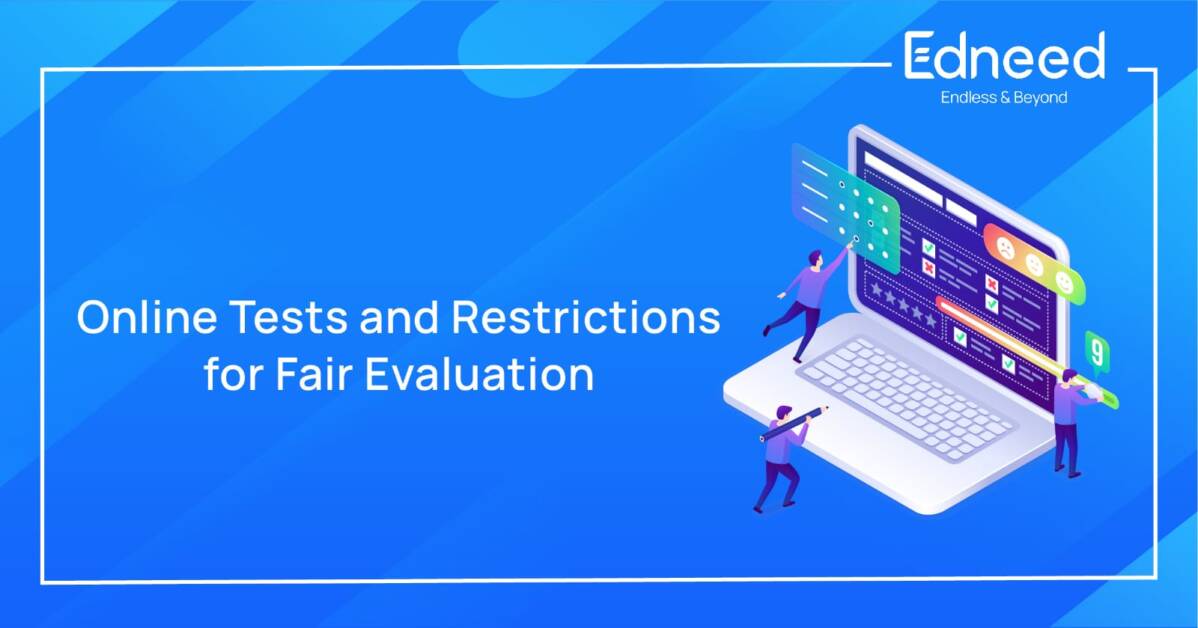 Tests are an important aspect for evaluating the students' process throughout the year. Though, online tests came up as a solution to that but evaluating them fairly still seem to be impossible as there were chances of students using unfair means during the test. Thus, the educational institutions must seek a school management system that addresses this issue very well.
Study Material for Their Students
Online mode for learning has plenty of perks for its consumers. When schools shift to online mode, they open a new door to the endless possibilities. By opting for a school management system that lets them create the study material according to the class and subject, institutes help their students to learn anytime, anywhere and at their own pace. And we all know that retention rate increases when students get to learn at their own speed. 
Edneed: The School Management System that matches the Needs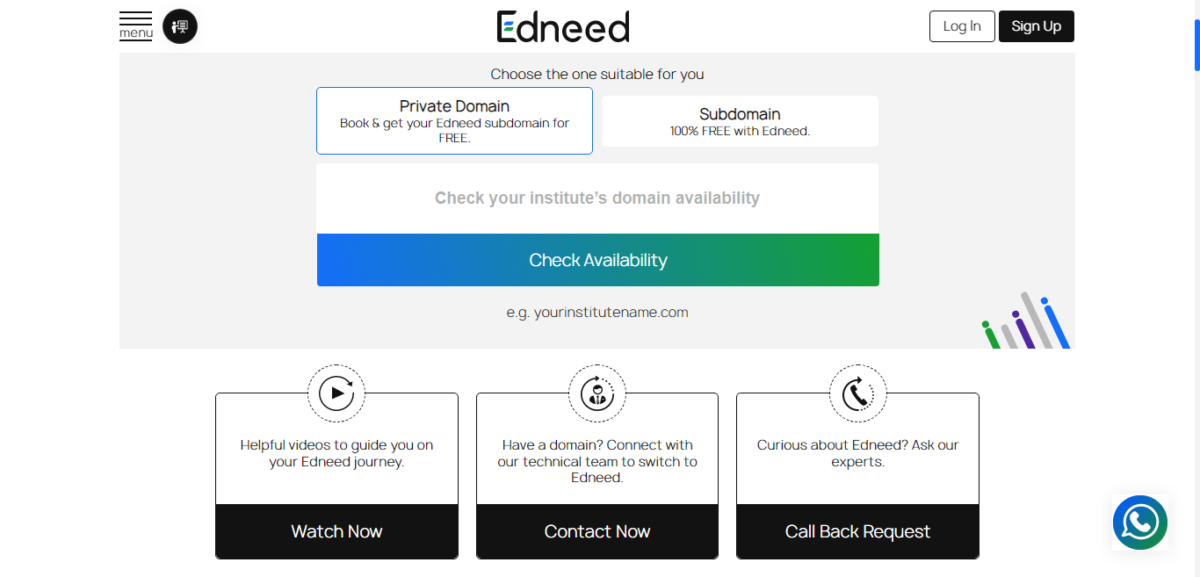 Edneed is a school management system that is developed considering all the important factors and features. Institutes can use Edneed one stop digital solution to enable the real meaning of online learning for their students. We would like to address some of the important features that help Edneed to stand out from the crowd. 
It is important for students to attend and be attentive during every online class. However, other systems in the market may not have the ability to provide the support of tracking the attendance. But, Edneed gives the ability to the teachers to keep an eye on every student's attendance and keep a track of it.
A school management system must have a feature to control and monitor the activities during the online test. Edneed helps institutes in conducting the exams in full screen and in a very monitored way so that they can evaluate their students fairly. We provide three different types of restriction mode in its online test feature.
No restriction Mode: In this mode, students will be allowed to switch and change between windows.
Moderate Mode: In this mode, students can switch between tabs just 5 times. However, every time they switch the tab, the teacher will be notified about it.
Strict Mode: This mode will now allow students to switch or minimize the tab.
In both restricted modes, if students try to switch between tabs more than the limit, their test will be auto submitted. 
In order to provide the best in class solutions for educational institutes, Edneed also gives them the ability to create study materials for their students. These materials can be created for both class and institute level. 
Conclusion
The concerns of educational institutions are what we strive to resolve with our one-stop digital solutions. The Edneed school management system has just been updated with features that will help them to use restriction modes for online tests. Also, schools and institutes can now add study material to their platform. Edneed ensures seamless learning with its best in class features. 
What is Tafseer? – Updated Guide
Tafseer is the word that means the explanation. It is used as an explanation of the Quran. Or also, people used to use it as a commentary of the Quran. As long as Prophet Muhammad (P.B.U.H) was alive, people of that time didn't want any other understanding of the Quran. But when he left this eternal world, there was a huge need for explanations and commentaries on the Quran. Then afterward, the Quran was compiled in the form of a book. But the sequence of the Quran was disturbed as in the form of Surahs. At that time, people had suffered a lot because there was also a difference between the text and its meaning. Then after that, there was a pure method of Tafseer formed and implemented. Tafseer had made it easy for people to understand the Quran and what is written in it in the better way possible.
You may also like to learn about the Learning Quran with Tajweed.
Why Tafseer is important?
Tafseer is important in Islamic culture as it helps to increase the knowledge of individuals. It helps people learn and understand the meaning of the Quran and what is written in the Quran. An ordinary person can not write Tafseer; for that, a person should know about the importance of the Quran and Tafseer and have an idea about what he will start. The writer of the Tafseer is called Mufassir. In this way, Tafseer has a lot of importance in the religion of Islam. And also, the Quranic Tafseer can not be changed or replaced.
Reasons why learning Tafseer is important?
There are multiple reasons why learning Tafseer is important, and it's so much value in Islam. Here are a few reasons.
Helps to pray following the Quran for Muslims
The Tafseer of the Quran is important because it is a holy book of Islam that will remain the same till the day of judgment. While reading the Quran, Tafseer makes it easy for individuals to learn and read the Quran. Get the idea from, Quran Reading Course.
Helps during Salah for the reason of concentration
While performing salah, a person is distracted with multiple kinds of thoughts running in their mind, including their life, issues, or many other problems. When you know the importance of what you are reciting, you will try to make sure and not be distracted, and that can only happen when you know to learn Tafseer.
A better understanding of the Quran for the people who don't understand the Arabic language
Allah Almighty has sent the Quran in the Arabic language. It is hard to understand and learn about the Quran when you are not a native Arabic speaker. In that case, the Quranic Tafseer is important to learn for all Muslims worldwide as it is important to understand the Quran.
To understand better what Allah Almighty has said in the Quran.
If you don't know how to speak the Arabic language or can not get the actual meaning of that language, it will be hard for you to understand the Quran. You will not be able to know what Allah Almighty has said and ordered to mankind. However, if you know the Tafseer of the Quran, you will know what has been written in the Quran, you will be able to bond with your creator.
The exact explanation of the Quran
By learning Tafseer, you will know the exact meaning of the Quran. You will know exactly what has been written in the verses of the Quran and the message that Allah Almighty has delivered to mankind through the Quran. You can learn that accurately when you will learn about the Quran.
To invite more people towards Islam.
When you will learn and understand what is all written in the Quran. What has Allah Almighty said in the Quran, what are the boundaries and limitations of Islam, what is the right method to follow Islam, all through the Tafseer of the Quran. You will be able to invite more people to your religion of Islam. You will be able to tell them the rights and the wrongs of life, and you can guide them towards the right path of the world.
Conclusion:
Tafseer has a lot of importance in the Quran; by learning Tafseer, you can learn a lot about Islam and all other things mentioned in Islam. We have mentioned all the basic reasons above to make you know its importance and why it is important to learn about it.
Author Bio
Muhammad Junaid is a Senior Analyst, Search Engine Expert, and CEO of Online Quran Academy. Extensive experience in SEO, Analytics, Research, and Blogging. Work for years with local and international enterprises for 7+ years. Also, represent well-known brands in the UAE.
GROWING CLASSES: DO LEARNING OUTCOMES SUFFER FROM IT?
When the size of the classrooms is increased, they are referred to as growing classes; the mere outcome of this is that more people fit into the classes. With the population increasing and more students being enrolled in schools, the classroom is increased in size. Some might say that the learning outcomes suffer from growing classes as small classes are still more desirable. Here are a few disadvantages of growing classes. Learn about Online Madrasa classes for kids.
TEACHERS ARE OVERWORKED
A big classroom with many students means the teacher would have a hard time controlling the class, large classrooms usually have more disturbance, and the teacher might get severely exhausted. In large classrooms, teachers aren't able to give individual attention to anyone; they might have a hard time remembering the student's name as well; this has a negative effect on students learning performance as they feel neglected by the teacher and are not able to get the help they want because the teacher doesn't have time to focus on every student. In return, this might lead to many unanswered questions; also, because of so much destruction and noise in the class, students have a hard time understanding the teacher.
HARD TO INTERACT WITH ANOTHER
One of the most critical aspects of an educational institution is, learning social skills and interacting with one another. Still, because of large classrooms, students can't form friendships or interact with their peers at all. Growing classrooms lead to this purpose not being achieved. People in the classroom feel isolated and cannot interact with others.
LESS TIME AVAILABLE FOR GUIDANCE
When there is a considerable number of students in the classroom automatically most of the time would be spent in organizing the class, and less on teaching, the administrative tasks such as taking the attendance might be so time-consuming that the teachers would lose the time they could have to spend on teaching. Get the idea from Online Quran classes for kids.
NOT BEING ABLE TO PARTICIPATE
In a big classroom, students are not given a chance to participate, and participation is very much crucial for the learning process. If students don't participate, they'll have a hard time learning. With growing classes, this is being lost, and students might be suffering because of it.
NOISY CLASSROOMS
An extensive classroom would have more students, and in return, it will have more noise and disturbance, which means learning might become very difficult as, with the noise, the teacher's lecture will not be understood. Hence, it will affect academic performance.
LESS ONE TO ONE INTERACTION WITH THE TEACHER
Growing classrooms mean that the teacher might not be able to give individual attention to all of the students in the class, which means the students might not be able to get a complete understanding of what the teacher might be teaching or with so many students in class the teacher would not be able to give feedback regarding the work, so that means the students will not be able to learn and correct their mistakes, so all of this might affect their performance. Learn about the Female Quran Teacher for kids.
ADVANTAGES OF GROWING CLASSROOMS.
Schools with big classrooms might not be that expensive, which means that most people would be able to afford it and get the education they want. Most people who weren't able to afford to get an education can do that now.
A big classroom can accommodate more people as it is large and has the space of a large number of students, which means more students get the chance to join the class; it gives everyone an opportunity to learn and participate. Classrooms tend to grow because of the growing rate of population so that no one gets left behind.
CONCLUSION
Overall smaller classrooms are still preferred over big classrooms as growing classrooms have made learning harder and harder. Studies also show that smaller classrooms lead to better academic performance by the students compared to big classrooms. So, the growing classrooms actually do affect the learning outcome negatively.
Understanding the 4 Most Popular Types of Paper Grades In Packaging
As you enter the world of customize Packaging by being on the platform of the e-commercebusiness,you will need a lot of awareness regarding custom packaging and the terms that are associated with packaging such as paper grade, etc. The term paper grade is quite different from paperweight and people tend to confuse the two.
Understanding Paper Grade
The paper grade is a way to classify and categorize the paper in terms of its use. Each of the grades has a purpose to convey and is known by its grade name commonly. The most common categorization of the printed paper involves text, cover, coated, bond, index, label, tag, newsprint, and much more. These paper grades also differ in their sizes from each other.
Understanding 4 Most Popular Types of Grade Paper
The four most popular type of grade paper involves the following paper:
The Clay Coated News Backboard
Clay-coated news blackboard paper also famously known as CCNB carton is a kind of paper that is created with recycled newspapers and wasted corrugated containers that are being left over and also various other types of paper. It is indeed one of the most affordable, cost-effective, and convenient options for users when it comes to printing and custom packaging. However, it does have a nature of absorbing water which doesn't make it ideal for extreme weather conditions or some products. The quality of the paper is average and paper cant stand much weight when it comes to custom packaging. Get the idea from custom cupcake boxes.
The Folding Box Board
This kind of paper is developed using a mix of various chemicals, mechanical materials, and different procedures to generate a pulp that is few layers thick which results in adding durability and thickness to the paper. The surface of the paper is bleached due to the chemical, it provides an overall canvas to perform superior quality prints and designs. As compared to other papers, this kind of paper is stiffer which makes it an ideal choice for various products and is used for products like custom cake boxes, custom cookie boxes, custom bakery items, custom lipstick boxes, custom eyeliner boxes, and much more.
The Solid Bleached Sulfate Board
This kind of paper is the most desired custom packaging solution as well as the epitome of great product packaging with a custom design. Quite similar to the folding boxes, this kind of paper involves fibers that are chemically pulped at first and then the paper is bleached. The bleached pulp can be easily converted into boxes. As both the inside and outside surface of the box include a white surface, it makes an excellent option for printing both in and out and can be conveniently used for high-grade packaging such as UV printing, spot printing, embossing, etc.
Also, you have like to learn about the, eyelash boxes wholesale.
The Coated Unbleached Kraft Paper
This kind of kraft packaging is created with 100% recycled substances making it an ideal choice for businesses that are very conscious when it comes to the environmental conditions and various aspects of mother earth. This type of packaging truly suits businesses that prefer eco-friendly packaging styles like lip liner boxes and offers consumers safe packaging. It is indeed a great option for custom packaging when it comes to food items such as custom donut boxes or custom cake boxes etc. It has great strength and has a tear-resistant quality that makes ut an ideal packaging solution for businesses.
Wrapping Up!
To provide your consumers with the ideal packaging solution and to keep your product safe and sound it is truly important to understand the world of custom packaging and what comes in it.
Author Bio
Muhammad Junaid is a senior Analyst and Search Engine Expert. Extensive experience being a lead writer in The Customize Packaging. Work for years with local and international enterprises. Also, represent well-known brands in the UAE.